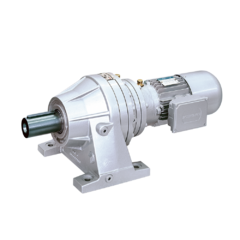 300 serie universele planetaire reductoren
The 300-series is compact and powerful. The planetary design principle makes these gearboxes eminently suitable for applications with a high continuous load in combination with shock loads and short peak loads. Thanks to the modular construction a planetary gearbox can be built for almost any application in particular for applications with a low output speed.
The gearbox is built from modular sections guaranteeing an optimum in adaptability in regards to form, motor connection, reduction stage configuration and output sections. Many executions are also available with ATEX certification.
Look at the column with reducer types
| Type | Torque [Nm] |
| --- | --- |
| 300 | 1.000 |
| 301 | 1.750 |
| 303 | 2.500 |
| 304 | 3.600 |
| 305 | 5.000 |
| 306 | 8.500 |
| 307 | 12.500 |
| 309 | 18.000 |
| 310 | 25.000 |
| 311 | 40.000 |
| 313 | 55.000 |
| Type | Torque [Nm] |
| --- | --- |
| 313 | 55.000 |
| 314 | 80.000 |
| 315 | 100.000 |
| 316 | 135.000 |
| 317 | 170.000 |
| 318 | 250.000 |
| 319 | 350.000 |
| 321 | 500.000 |
| 323 | 800.000 |
| 325 | 1.100.000 |
---
Options and accessories
| | |
| --- | --- |
| Torque | 1.000 - 1.100.000 Nm |
| Mechanical capability | Up to 450 kW |
| Gear ratios | 3,4 - 5.000 : 1 |
Inputs
Flange mounted axial piston motors
Hydraulic Orbit motors
IEC and NEMA standard motor adapters
Solid input shaft
Outputs
Foot, flange and shaft mounted
Weighted shaft for agitators
Output shaft: solid with splines, with spline, hollow with internal spline or hollow with shrink disk
Construction types
Coaxial
Right-angled with spiral cone teeth
Combined with coaxial (C series), right angle (A series) gear reducer or worm gear reducer (W series)
Options
ATEX version
Switchable two-speed version
Hydraulically operated multi-disc brake (holding brake)
Electric DC or AC controlled brake
Reaction arm
Options electric motors
Temperature sensors (thermistor or bimetal)
Separate forced cooling
Built-in encoder