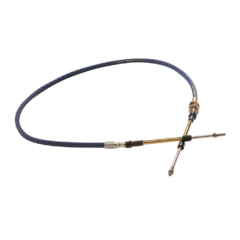 Push and pull cables
Push and pull cables by RCS are highly reliable and versatile, and therefore often used in cars, trucks and boats. These qualities are equally attractive to the industrial market and the RCS push-pull cables are used in many industrial control and movement applications. Next to the cables themselves an extensive range of handles, grips and accessories is available.
| | |
| --- | --- |
| Pulling force | Up to 4500 N |
| Pushing force | Up to 3150 N |
| Ambient temperatures | -50°C up to 100°C (momentary exposure up to 170°C) |
Properties
Extremely flexible
Universal terminals
Material stainless steel
Frost resistant
Any length available.
Material
Sleeve:
Plastic lining with a woven backing sleeve covered in durable exterior plastic shield.
Cable:
Inner cable with wound polished stainless steel covering with PTFE coating.
Lubrication:
Life time lubrication with special low resistance lubricant.
Terminals:
Zinc coated steel or Stainless steel fitted with seals against ingress of dirt and moisture.