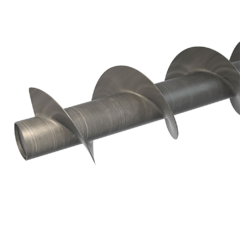 Screw conveyors
Screw conveyors can hardly be called a recent invention. Its invention is attributed to Archimedes of Syracuse and therefore predates the Christian Calendar. Archimedes and the equally clever and practical Leonardo da Vinci did not limit themselves at being good in one particular thing such as being an excellent mathematician or painter, but invented or discovered many things that still form part of our present day to day life, such as in this case the screw conveyor.
Be it cement, corn, grain or flour, chemical or plastic granulates (or indeed water) screw conveyors are widely used to move, mix, dose or grind in many types of industrial or transport processes.
Depending on the intended application different types of conveyor shapes or materials can be provided. A special version is available for use with highly abrasive materials, in which individual screw sections can be simply replaced depending on wear.
Executions
Single
Toothed
Mixer
Conical
Bolted and sectioned blades
Spiral tube with distance piece
Dimensions
Outer diameter 30 – 3.500 mm
Material thickness 2 – 40 mm
Materials
Steel
Stainless steel
Heat resistant steel
Wear resistant steel
Brass
Composite or Plastic